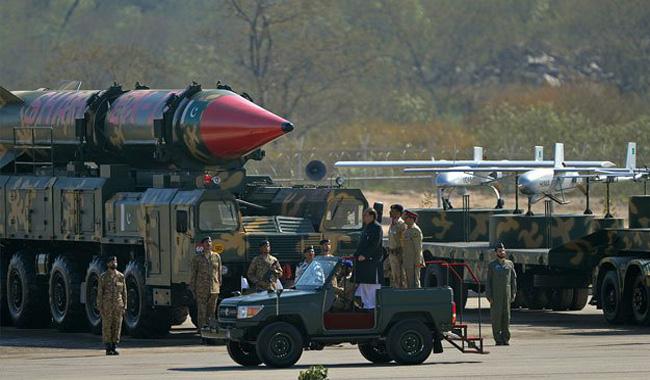 WASHINGTON: The United States on Wednesday acknowledged that terrorism reduced in Pakistan in 2016 for the second straight year and the country has taken constructive measures on nuclear safety and weapons of mass destruction (WMDs).
However, in its annual 'Country Report on Terrorism' for 2016, the US State Department kept Pakistan in the list of countries which have safe havens for terrorist.
The report added that the Pakistani military and security forces undertook operations against groups that conducted attacks within Pakistan such as Tehreek-e-Taliban (TTP) Pakistan.
"While terrorist-related violence in Pakistan declined for the second straight year in 2016, the country continued to suffer significant terrorist attacks, particularly against vulnerable civilian and government targets," the report said.
The report included Pakistan among over a dozen countries where terrorist safe havens exist. These countries include Afghanistan, Syria, Iraq, Columbia, Somalia, Philippines, Libya and Egypt.
The report appreciated the fact that throughout 2016, the Government of Pakistan administered an Exit Control List (ECL) intended to prevent terrorists from traveling abroad.
It further said Pakistan continued military operations to eradicate terrorist safe havens in the Federally Administered Tribal Areas (Fata), although their impact on all terrorist groups was uneven, it added.
"To combat weapons of mass destruction (WMD) trafficking, Pakistan harmonised its national control list with items controlled by the Nuclear Suppliers Group (NSG), and continued to harmonise its control lists with other multilateral regimes, such as the Missile Technology Control Regime and the Australia Group," the report said.
According to the State Department, Pakistan improved upon legal and regulatory cooperation, industry outreach, and non-proliferation awareness for the Strategic Export Control Division and Pakistani Customs.
It says Pakistan also delivered technical trainings to licensing and enforcement officials for the proper detection, interdiction, and identification of dual-use commodities that could be used to create WMDs.
"Pakistan was a constructive and active participant in the Nuclear Security Summit process and in the Global Initiative to Combat Nuclear Terrorism, and worked to strengthen its strategic trade controls, including updating its national export control list," the report said.
However, the report criticised Islamabad for not doing enough against the Afghan Taliban.
"Pakistan did not take substantial action against the Afghan Taliban or Haqqani, or substantially limit their ability to threaten US interests in Afghanistan, although Pakistan supported efforts to bring both groups into an Afghan-led peace process," the State Department said.
The department acknowledged that Pakistan's National Counter-terrorism Authority had published its own list of banned organisations in November 2016 which placed JuD in a separate section for groups that are "under observation" but not banned.
While not a ban, this allows the government to closely scrutinize the activities of such organisations.